MOTTO

DAE YANG STRAPS Co., Ltd. the largest PET strapping manufacturer in South Korea, has contributed to the development of packaging industry by providing the best quality of PET strapping.
We tooled up the production line with our own technology in 1998 as one of the pioneers of PET strap technology. As result of our continuous development, we have been supplying the best quality of Since our establishment in 1998, we, DAE YANG STRAPS, have consistently pursued "3-B Movement" (Best quality, Best price, Best service) as our core business strategy.
As a result of continuous improvement, we have been acknowledged to be a world-class manufacturer.
In order to enhance the value of your product,
in order to contribute to saving your packaging cost,
in order to give you the highest satisfaction with our PET strapping,
we will do our best as we always do so.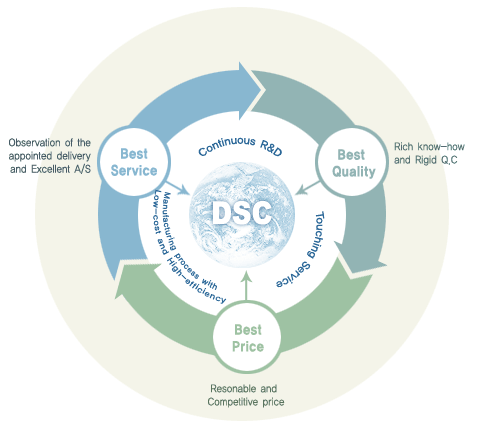 We promise that we will
1. Supply exactly what you want with our high technique and rigid quality control
2. Advise you on your packaging problem and recommend the most suitable type of PET strapping with our rich experience and technical data
3. Our best for reasonable price and competitive price.
4. Observe the appointed delivery and offer an excellent after-sales service.